There's something really big I've been wanting to share for several weeks, and I finally got the go-ahead, so here goes...
TWO weeks today, I will be flying to Japan to film a CBC documentary in which we will try to find my closest friend from the year I lived in Nagano prefecture as a child.  This friend, Fukue was not from a family of means, and I stopped hearing from her abruptly a few years after I returned to Vancouver - the question of what happened to her has never left my thoughts.  (The song "Lost Friends" on The JSFew's last album The Passage is about Fukue, written years before there was an inkling of actually being able to go on this trip)
Film company Loud Roar Productions caught wind of this story totally by chance, became intrigued by it, and pitched it to CBC, for which I am beyond grateful.  I am also extremely excited to be music director of the film, and create new pieces as scoring and write songs to punctuate whatever the results of our mission may be.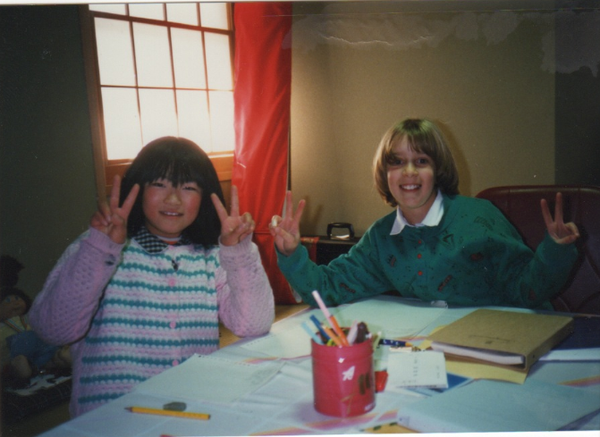 Fukue & I up to something crafty or homeworky at my family's apartment in Saku City (note my mom's koto against the wall in the background!)
AND that, my friends, is the news.  I will likely perform while I'm in Tokyo (details TBD!), and do a performance and workshop at a junior high school in Saku City, and will keep you guys posted.  These will be solo performances.
Thanks for reading my news, and feel free to leave comments below - I am incredibly overwhelmed by the possible outcomes of this trip, and you will see it all by the fall when the documentary goes live on CBC.
xoxox
jessica